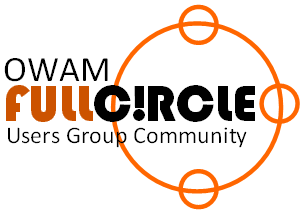 OWAM Full Circle 2015 at the Oracle Utilities User Group Conference
Phoenix, AZ March 10-12, 2015
We are pleased to be sponsoring OWAM Full Circle 2015 – especially when it's happening in our own backyard, here in Phoenix. Drop by our booth at the Registration & Vendor Night Reception and attend one of our sessions. We are looking forward to collaborating with some of the best and brightest.
Wednesday March 11 | 3:00 pm
What Does Reliability Mean to Me? Interactive Session
Terrence O'Hanlon, Reliabilityweb.com and Tacoma Zach, Uberlytics
Thursday March 12  | 8:30 am
Criticality and the "Art of Motor Vehicle Maintenance"
Criticality Analysis Made Simple
Marc Yarlott, Veolia and Tacoma Zach, Uberlytics
Thursday March 12 | 10:30 am
Panel Discussion: The Power of Utility Analytics
Chuck Tickles, retired VP IT, KCPL; Tacoma Zach, CEO Uberlytics; and Tom Eyford, Principal Business Strategy Consultant for Oracle Business Intelligence (BI)
You can get the full agenda here.