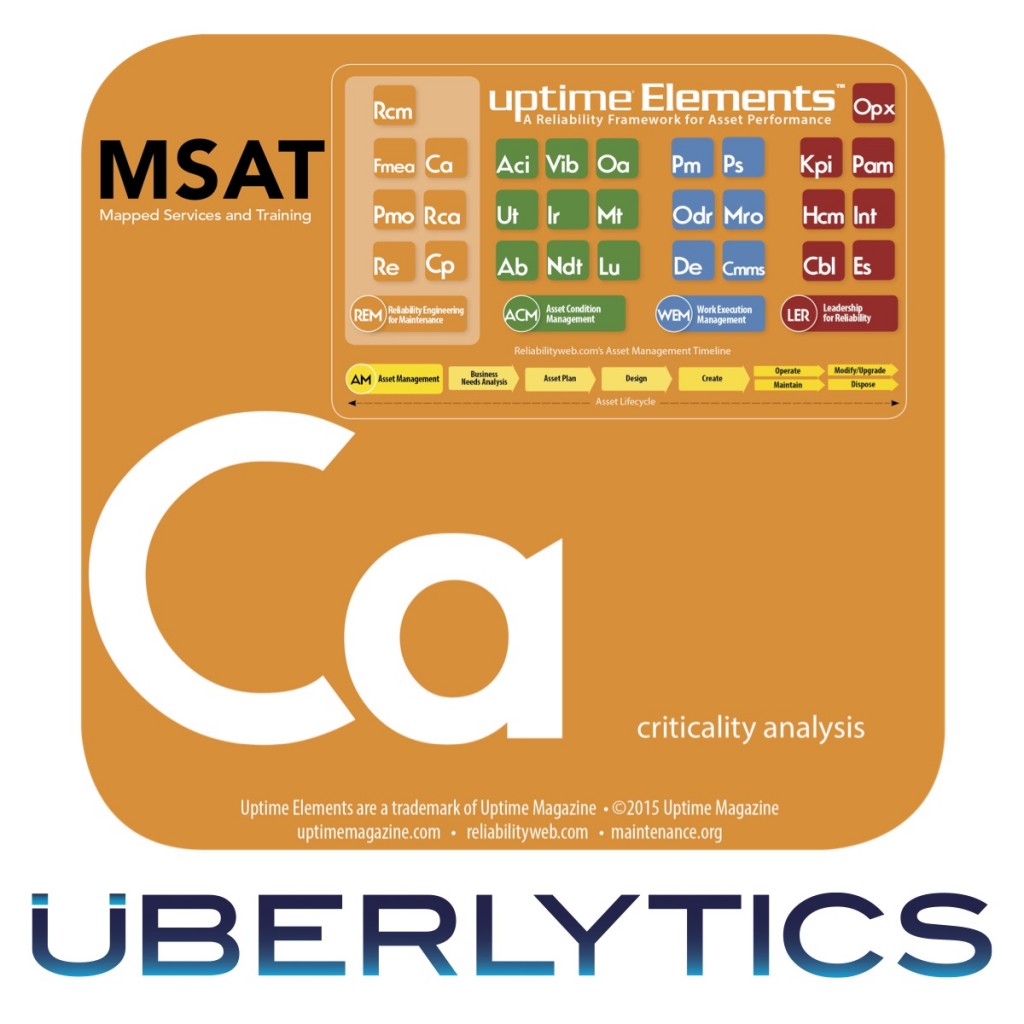 Uberlytics is pleased to announce that they are an approved Reliability Leadership Institute (RLI) Mapped Services and Training (MSAT) Provider. Uberlytics provides services aligned with the Reliabilityweb® Uptime Elements for Criticality Analysis in the Reliability Engineering for Maintenance (REM) domain.
"We are very pleased to be named an MSAT Solution Provider and to help asset managers and reliability leaders set up their asset management programs for success. Identifying your most critical assets and uncovering risk is absolutely foundational," says Tacoma Zach, CRL®, CEO of Uberlytics. "Through the MSAT Program we look forward to helping even more organizations fully realize the benefits of this critical step."
The Uptime® Elements™ Framework is a valuable tool that Uberlytics uses in helping clients adopt a broad strategy for success that encompasses all the elements of a world-class asset management plan.
Uberlytics is also pleased to be a sponsor of the upcoming International Maintenance Conference (IMC) to be held in Florida December 7 – 11, 2015 and to support the important work of Women In Reliability and Asset Management (WIRAM).
About Uberlytics
Uberlytics provides best in class criticality analysis software and consulting to asset intensive organizations like refineries, complex industry, power utilities, and municipal water and wastewater utilities. The Uberlytics Criticality Analyzer™ is a sophisticated, highly configurable and powerful software tool for efficient and rapid facility-wide criticality analysis, designed to discover unidentified risk, and supports ISO 55000 standards. Uberlytics also offers Service Interruption Risk Assessment. Learn more at www.uberlytics.com.
About the Reliability Leadership Institute (RLI)
Reliability Leadership Institute (RLI) was established as a Community of Practice (CoP) in 2012 to improve how organizations deliver asset performance through the use of Uptime Elements, a reliability framework designed to enhance the triple bottom line of economic prosperity, environmental sustainability and social responsibility. Reliability Leadership Institute (RLI) has a reputation for creating knowledge that measurably improves reliability and asset performance strategies. More details are available at www.reliabilityleadership.com
About Mapped Services and Training (MSAT)
The Uptime® Elements™ framework is a system-based approach embedding a reliability culture into an organization. As more asset managers are adopting the Uptime® Elements™ framework in support of ISO55001, there is a growing need for in-depth services and detailed "how to" training related to the mastery of each element.
The Reliability Leadership Institute is introducing a Mapped Services and Training (MSAT) Providers program to assist potential clients in sourcing approved vendors on processes and technologies covered by the Uptime® Elements™ Framework.