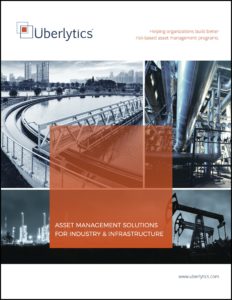 Uberlytics helps asset intensive organizations connect their asset management aims to reliability and maintenance execution priorities through our best-in-class criticality analysis software and consulting.
Uberlytics Solutions
Functional System Criticality Analysis™ Facilitation
Criticality & Risk Consulting
Hierarchy Consulting
Asset Management Foundations™ Roadmap Coaching
Software Tools:
Criticality Analyzer™
Hierarchy Navigator™
Uberlytics delivers complete criticality analysis services based on our Criticality Analyzer™ software. In addition to licensing our software on an annual basis, we facilitate your first criticality analysis, train your staff to use the Criticality Analyzer™ software, and drive the process to completion.  Our goal is to deliver the most meaningful, useful and actionable analysis for you to discover and mitigate your system risks.
Uberlytics Functional System Criticality Analysis™  (FSCA™)
An Uberlytics Functional System Criticality Analysis™ starts with the big picture and traces critical network relationships to identify the most crucial component systems. From there we can drill down efficiently to the asset level – only critical systems contain critical assets. This approach dramatically reduces the time required to complete a critically analysis for an entire facility.
Your FSCA™ is tailored to your unique context and driven by your most important factors, delivering a final analysis that is truly reflective of your operational constraints, with real mitigation items for your organization.
Benefits:
Up to 5 times faster than a conventional criticality analysis.
Inclusion of 100% of systems and assets ensures identification of previously unrecognized critical assets.
More accurate and comprehensive relative risk-rankings than a typical risk matrix exercise.
The FSCA™ process cultivates cross-disciplinary collaboration. 
Facilitates alignment from the top of the organization to the shop floor.
Download the Uberlytics Asset Management Solutions Brochure.
We Also Offer
Post-analysis software support
Follow-up analysis
Criticality analysis training
Integration of criticality analysis with your overall asset management program
Integration of criticality analysis with your CMMS  (Oracle, Maximo, Hansen, SAP, or any tool your organization uses)
Guidance in setting up or improving an existing asset management program
Asset registry set-up or review and optimization of an existing registry